Global wealth surges in 2017 – Credit Suisse
By Will Grahame-Clarke, 15 Nov 17
Total global wealth has now reached $280trn (£213.4trn €238.2trn) and is 27% higher than a decade ago at the onset of the financial crisis according to the latest edition of the Global Wealth Report by the Credit Suisse Research Institute (CSRI).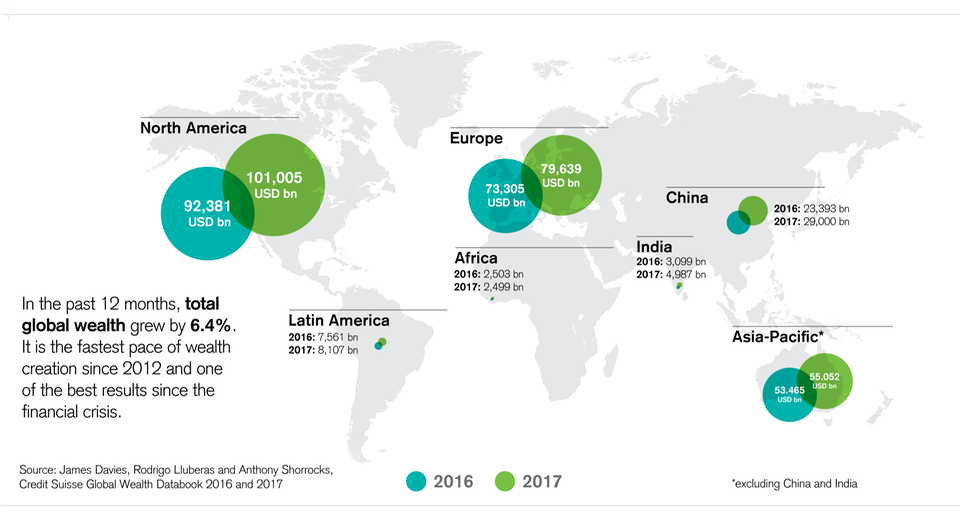 US gains account for half of global wealth increase
In the past 12 months, total global wealth grew by 6.4%. It is the fastest pace of wealth creation since 2012 and one of the best results since the financial crisis.
Moreover, as wealth increased faster than the population, global mean wealth per adult reached a new record high of $56,540.
Comparing wealth gains across countries, the United States is an unquestionable leader. The country continued its remarkable unbroken spell of gains after the financial crisis and added $8.5trn to the stock of global wealth.
The US generated more than half of the total global wealth aggregation of $16.7trn of the past 12 months.
"So far, the Trump presidency has seen businesses flourish and employment grow, though the ongoing supportive role played by the Federal Reserve has undoubtedly played a part here as well, and wealth inequality remains a prominent issue," commented Michael O'Sullivan, chief investment officer for International Wealth Management at Credit Suisse.
"Looking ahead, however, high market valuations and property prices may curb the pace of growth in future years."
Tags: Credit Suisse
/?php sponsoredContentBanner(); ?>