Diversified portfolios have outperformed seven out of 13 of the principal asset classes for the past 15 years, research by Fidelity International found. 
The analysis looked at returns generated by investing £13,000. Investors that spread the sum evenly – £1,000 per asset class – would have found themselves with a portfolio worth £38,221 ($49,132, €41,890). 
This means they would be approximately £28,000 "better off than if they had committed themselves to a single asset class", the firm said. 
According to Fidelity International, diversified portfolios outperformed commodities, corporate bonds, government bonds, Japanese equities, cash, real estate and UK equities. 
While the asset classes that have had higher returns were Asia-Pacific equities, Europe ex UK equities, emerging markets equities, US equities, emerging markets debt and global equities. 
All eggs in 
Tom Stevenson, investment director for personal investing at Fidelity International, said: "While some individual asset classes may outdo a diversified portfolio, at least half of the time, a spread of investments provides a better return.  
"Past performance offers no guarantees for the future and, short of having a crystal ball, it's impossible to predict the future with any certainty. The events of 2020 highlight just how uncertain life can be and, with an alphabet soup of possible economic and market 'what next' scenarios, backing just one asset class could prove too risky.  
"An 'all eggs in' approach leaves you open to the full impact should an asset class fail." 
Stevenson said that particularly helpful insight can be gained from looking at the post-2008 financial crash recovery. 
He continued: "Now, too, looking beyond the health pandemic, a number of competing forces are likely to affect how markets behave over coming months as trade tensions, rising unemployment, Brexit, fluctuations in commodity prices, and the US presidential election loom large.  
"Spreading your investments across a range of assets, sectors and geographies increases the chances of your portfolio including some assets that are performing at their best, mitigating the drag of any stragglers.  
"Rebalancing your portfolio to make sure your investments are in line with your risk appetite and objectives in the current climate is crucial to cushion you against market disruption."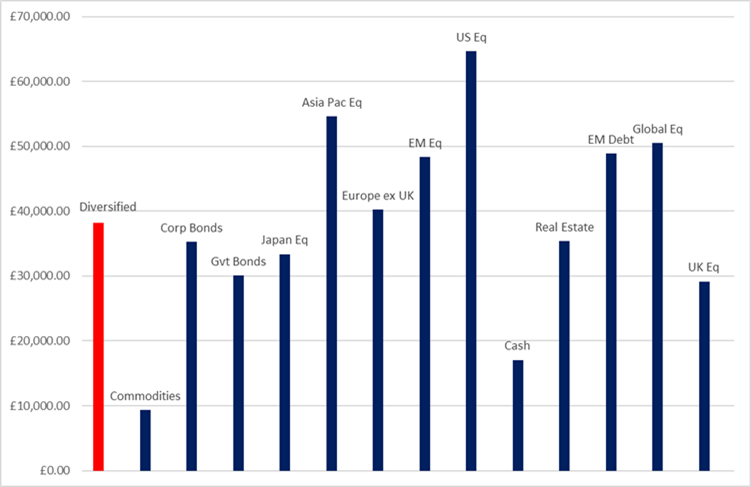 Source: Fidelity International, Datastream, July 2020. Total returns in GBP from 22 July 2005 to 22 July 2020